Mother's Day Promo Package 
Looking forward to celebrate Mother's Day with your family in Singapore? You can consider a visit to the number one theme park in Singapore for a mind blowing experience in a high-tech environment. Located at 51B Imbiah Road, on the fabulous Sentosa Island, 4D Adventureland comes with loads of super thrilling experiences which are suitable for people of all ages. As a part of their Mother's Day promotional offer, 4D Adventureland is offering special packages. Now you can buy tickets for one adult and one child for just S $62.90 and get a ticket for the mother absolutely free of charge. This means that you would be getting 2 tickets for adults and 1 ticket for child for just S $62.90. The second promotional package of 4D Adventureland is no less attractive. For S $82.90 you will be getting tickets for one adult, one child, three Pirate shows and one free ticket for the Mother.
Now you surely have a good reason to celebrate mother's day with your family at the most sought after amusement park of Singapore. Sentosa 4D Adventureland is open every day of the week from 10:00 AM to 9:00 PM so all you need to do is plan an outing on the mother's day week and enjoy all the special discounts. The stunning 4 dimensional screenings are sure to keep you come back for more. Let us take a quick look at all the 4D screenings you will get to watch at Sentosa.
Journey 2: The Mysterious Island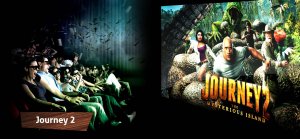 Here you will get to see excerpts from the Hollywood blockbuster movies Journey 2 the mysterious island starring The Rock, Michael Caine, Kristin Davis and Luis Guzman. Based on Jule Verne's book 'The Mysterious Island', the 4D screening of this movie would take you to a world of adventure and fantasy. You will be able to experience all the adventures of the actors in the full 4D environment. Participate in a 4D roller coaster ride in the Pacific Island and get ready to plunge into the screen.
Extreme Log Ride: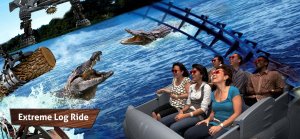 This 4D screening is one of the most popular in 4D Adventureland. In this powerful 10 minutes experience you are going to step into the shoes of a super tree log as it makes it's way through the fierce streams of the fantasy land of Himalazon. The super realistic 4D video would let you take a spectacular ride in the wilderness and pump your adrenaline.
Desperadoes:
This is an interactive screening session which is based on the video game called Desperados: Wanted Dead or Alive. In this interactive action adventure game the audience would be taken to a small western village where they would be required to hunt down the bad folks. With the help of a motion sensor gun you will have to shoot all the pirates and get your score high. Make sure to get in early and reserve a seat in the front row for the ultimate shooting experience.
Celebrate the Mother's Day like never before by getting your family tickets to Sentosa 4D Adventureland at a special discounted price.